Vredestein Snowtrac 3 is a complete winter tyre that rides easily on ice, snow, wet and slushy roads. Made for winter, Snowtrac 3 is a one of its kind tyre that provides traction even in extreme weather conditions.

Vredestein Snowtrac 3 is Vredestein's hallmark winter tyre. The best and latest of all Snowtracs, Snowtrac 3 is Vredestein's commitment to safety. The tyre's unique tread pattern with stepped, circumferential and tapered grooves offer maximum traction on wet and snowy surfaces. The tread and groove pattern also contribute to the tyre's self-cleaning performance, making it slid off snow that may come in way of the contact patch. Snowtrac 3 comes with Optimum Silica & Polymer Processing (OS&PP) tread compound to provide maximum grip in winter and wet/dry roads, while the round footprints accelerate water and slush disposal. Excellent handling and steering control are ensured by variable depths in the grooves. This facilitates even distribution of pressure and thereby, stability to the vehicle. Low noise emission is accomplished by the tyre's unique Center Shift System® which makes every ride comfortable and pleasant. The groove-in-groove design - which separates shoulder blocks – encourage consistent performance and balanced tyre wear. The sipes or the wafer-thin grooves perfect your vehicle's performance and provide adequate safety and stability during braking. A genuine winter tyre, Snowtrac 3 is capable of speeding up to even 190 km/h.

Snowtrac 3 beats out all its Vredestein cousins when it comes to winter performance. It has the calibre to wade through any road – dry, wet, slushy, icy or snowy. Indeed, a priceless tyre for all snow-loving driving enthusiasts!

Highlights of Vredestein Snowtrac 3:

Winter tyre that performs well on ice, snow, wet, slush & dry roads
Built with OS&PP tread compound, Snowtrac 3 delivers best grip in winter
Low noise emission made possible with Center Shift System®
Unique, circumferential & tapered groove pattern for self-cleaning purposes
Groove-in-groove design to achieve balanced wear
Wafer-thin sipes/grooves to provide stability and safety
Called as the 'best winter tyre' from Vredestein
The Dutch constructer Vredestein never stops astonishing. Exactly like it did in 1999, when it released its newest tire, the Sportrac, that made the covers of specialized magazines. Indeed, a tire designed by Giorgetto Giugaro, one of the most prolific automobile designers in this industry's history, is in itself a great event. Vredestein Baden B.V., headquartered in Enschede, Holland, begins its story in 1946. Known essentially for their irreproachable grip on snow-covered roads and for their aggressiveness on dry roads, these tires are placed on the fourth position in the European consumers' preferences. Equipping a car with a Vredestein tire, means instantaneously making it more attractive. These tires know how to play the aces in their sleeves. The elegance and the post-modern aesthetics meet up to create tread patterns inspired from the bio-design current, that uses pure forms and fluid contours, to remind the beauty of nature. For Vredestein, every detail is important.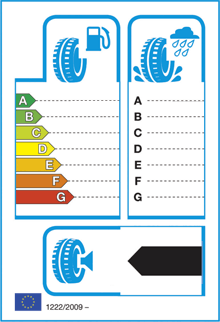 F
C
68

dB
C1