Vredestein Quatrac 3 is a two in one tyre, with both summer and winter elements embedded in one tread design. The ultimate four season tyre from Vredestein, this Quatrac is ideal for all season and even all terrain driving. Best for those who love to drive with the same wheels all year round, Vredestein Quatrac 3 performs both in tough summer conditions and extreme winter surfaces.

Vredestein Quatrac 3 has a striking asymmetrical tread pattern. The non-directional tread with separate summer and winter sides offer optimal safety and great aquaplaning resistance. The summer side is occupied by the outermost area of the tread and has a lower air ratio as it is full of tread blocks and straight sipes. This part of the tread produces great traction in summer conditions while the winter part of the tread takes care of winter performance. The winter tread is on the inner area of the wheel. It features a very open structure with many undulating sipes that serve as biting edges on snow. This part of the tread also takes care of mud/snow traction, ensuring that the tyre is superior even in rough weather conditions.

Vredestein Quatrac 3 is unique, because not many tyres carry the benefit of summer and winter performance in one. The tyre comes with a snowflake and mountain symbol, which makes the Quatrac a winter tyre par excellence.

Highlights of Vredestein Quatrac 3:

Summer and winter tyre in one
Ideal for all season driving
For drivers who want performance year-round
Asymmetrical tread pattern with separate summer & winter parts
Comes with snowflake/mountain symbol
The Dutch constructer Vredestein never stops astonishing. Exactly like it did in 1999, when it released its newest tire, the Sportrac, that made the covers of specialized magazines. Indeed, a tire designed by Giorgetto Giugaro, one of the most prolific automobile designers in this industry's history, is in itself a great event. Vredestein Baden B.V., headquartered in Enschede, Holland, begins its story in 1946. Known essentially for their irreproachable grip on snow-covered roads and for their aggressiveness on dry roads, these tires are placed on the fourth position in the European consumers' preferences. Equipping a car with a Vredestein tire, means instantaneously making it more attractive. These tires know how to play the aces in their sleeves. The elegance and the post-modern aesthetics meet up to create tread patterns inspired from the bio-design current, that uses pure forms and fluid contours, to remind the beauty of nature. For Vredestein, every detail is important.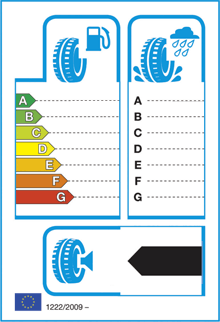 E
C
68

dB
C1